Big Wheel Towing & Recovery –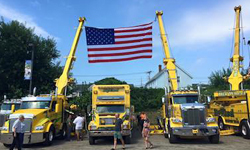 In 1980, Big Wheel Towing & Recovery started with a 1953 Ford F800 tow truck with a Holmes 525 unit and a heavy duty tow bar. Since then, they have continually added new & specialized tow trucks & towing equipment and has become one of the largest towing & recovery companies in New England.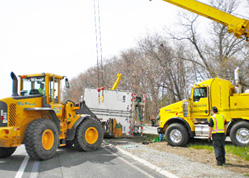 Their towing fleet & services include ramp trucks, Landoll tractor & trailers, hydraulic wreckers, cranes, boats, large off-road track vehicles, a hovercraft, front end loaders, & even deep-water certified divers. They can handle specialized recoveries as well as basic towing needs.

Currently, they own the largest factory built wrecker in the country, a Kenworth T800 five axle unit with a Jerr-Dan 85-Ton rotator. This is the 5th rotator added to their fleet.

All Big Wheel Towing & Recovery wrecker operators are WRECKMASTER 6/7 & HAZWOPER Certified. Big Wheel's services are authorized by State & Local Police Departments for Emergency Response Recoveries. With their expertise and recources, they can accommodate all your needs.

Call or visit Big Wheel Towing & Recovery for your heavy duty truck towing needs!

– Check Out This Week's Specials –